Privacy and connection to the outside world combine in one space with this non-handed L-workstation featuring a work wall and standing sightlines. With a drawer for document storage and an open cubbie for other materials, you'll have plenty of room to store all of your must-haves.
Product Info
Overview
Specifications
Images
Components
Warranty
Manage L-Workstation
Whether outfitting a new office or expanding an existing one, it's never been easier to Manage a workspace. Manage is an affordable collection inspired by the needs of small businesses. Its concise offering includes all the essential workstation components, such as desks, storage and simple space division solutions, and can be quickly and easily set up to support open plans, semi-private or private offices. With an ideal combination of style, performance and affordability, Manage is ready to handle today's fast-paced business demands.
Unique visual effects, innovative work tools and remarkable performance at an affordable price
Workstation consists of Worksurface, Steel Desk Leg, File Center with Drawers, Open File Center, and Work Wall
All components are built from durable, high-performance particleboard that stands up to wear and tear
1" thick worksurfaces feature two factory-installed steel beams for strength and rigidity
Innovative work wall provides seated privacy and standing sightlines
Work Wall features sturdy metal frame that is engineered to support fully loaded worksurfaces as well as accessories
This pre-configured workstation is ready to order and ship without guesswork
View the Manage Collection
Manage L-Workstation
Will it fit in my office? Will it even fit my needs? Before buying, you need to know all the measurements, features and details.
Product is readily available
Pedestal Drawer Configuration:
Open/Pencil/File; Open/Open
We aren't all interior designers with the ability to visualize a product in various environments. The following images will give you ideas on how to make the most of your HON products, as well as bring a variety of aesthetic options to life.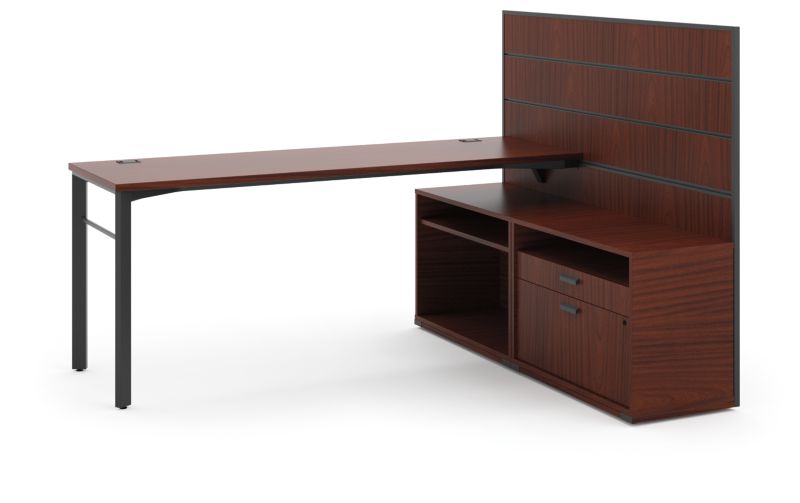 Manage L-Workstation
There's more to this one than meets the eye. The following products work together to create this well-oiled, productivity-maximizing machine.
Backed by the basyx by HON Limited 5-Year Warranty
The HON Company promises to repair or replace any basyx by HON product or component that is found to be defective in material or workmanship within five (5) years from the date of original purchase so long as you, the original purchaser, still owns it. This is your sole and exclusive remedy. This warranty is subject to the provisions below. It applies to product manufactured after January 1, 2013.
Limitations:
• Upholstery on chairs is warranted for two years from date of purchase.
• Damage caused by the carrier in-transit is handled under separate terms.
Exclusions:
This warranty does not apply and no other warranty applies to:
• Normal wear and tear, which are to be expected over the course of ownership.
• Modifications or attachments to the product that are not approved by The HON Company.
• Products that were not installed, used, or maintained in accordance with product instructions and warnings.
• Products used for rental purposes.
Seating Usage
Normal commercial use for seating is identified as the equivalent of a single shift, forty- (40) hour workweek. To the extent that a seating product is used in a manner exceeding this, the applicable warranty period will be reduced in a pro-rata manner.
A word about color variations, fabrics and finishes: The HON Company does not warrant the color-fastness or matching of colors, grains, or textures of covering materials.

Other Products That Complement This Desk
Other Products In This Collection
Similar Desks You May Like