Four-leg Cafe-Height Stool
The way people work is constantly evolving. You need a seating solution that can adapt to your needs. This versatile Motivate cafe-height stool provides comfort with a sculpted shell and flexible seat and back. Its compact design doesn't take up precious workspace, and you can choose from a variety of colors to make a bold statement.
Product Info
Overview
Specifications
Images
Videos
Warranty
Motivate Four-leg Cafe-Height Stool
The Motivate seating line transforms any space into a dynamic environment, capable of supporting the ways people work. From flexible training areas to dedicated workstation spaces to the countless gathering opportunities in between, Motivate boasts an efficient footprint and versatile design that delivers ultimate comfort and adaptability.
Plastic shell back and upholstered seat are contoured to conform to the user's body
The seat and back move with the body to reduce pressure points
The efficient footprint and versatile design delivers comfort and adaptability
Plastic shell back offers breathability
One piece propylene backrest can be easily wiped down
Optional ilira-stretch fabric back allows for greater airflow and added comfort
Thirteen vibrant colors complement any setting or taste
Textured Black or Platinum frame
View the Motivate Collection
Motivate Four-leg Cafe-Height Stool
Will it fit in my office? Will it even fit my needs? Before buying, you need to know all the measurements, features and details.
Product is readily available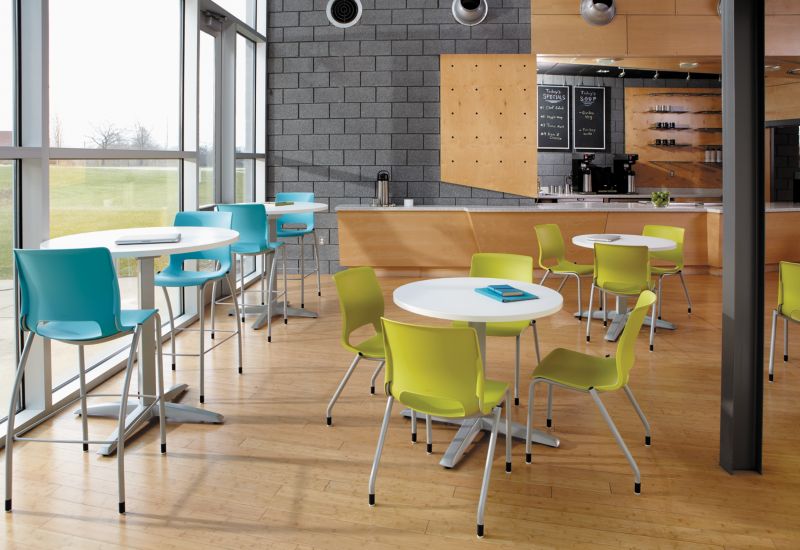 Let's be honest, you can read volumes about a product, but seeing really is believing. Click a video below to see this product in action.
Backed by the HON Full Lifetime Warranty
Warranties are not usually exciting reading material. But we think the HON Full Lifetime Warranty is something special in our industry. It's not that we've worked hard on the warranty itself. Instead, we've worked hard to make it easy to warranty our products. Here is how we can provide and stand by what we believe to be the best warranty in the office furniture industry:
We know what we're doing and do it better than anybody else.
At HON, we are committed to being good listeners and producers. Through our "Voice of the Customer" process, we spend time listening to the people who make businesses go, observing how they work, and learning what they need to be successful. The right products don't wear out, break or malfunction. They just work, and that makes them easy to stand behind.
We let practicality inspire us.
HON designers, engineers, and production people are inspired by practicality. Our office furniture solutions must be functional and effective. We test them in real offices. We have always and will always make tough, enduring products that look good too, because that's what makes sense for our customers.
We are empowered. We are ready.
Every HON member is empowered to serve our customers. Every one. We know that loyalty is a product of performance. It's a matter of making and keeping promises. That's how we keep customers for life. That's what makes us stand out in our markets.
Our warranty is our promise. So it has to be on-the-mark.
We're confident in the value, quality, and durability HON products deliver. If they fail, we give their owners the choice to replace any product that can't be repaired with something comparable, or we refund their purchase price—and we do not mean a prorated refund, we mean a full refund no matter how much the product was used.
Waiting for the fine print? Don't. There is none.
We don't feel our warranty should have fine print because we want it to be clear, concise and easy to understand—just like the products we make.
Not sure which chair is right for you?
Take our Chair Matcher Quiz and find the perfect one for you!
Other Products That Complement This Chair
Other Products In This Collection
Similar Chairs You May Like