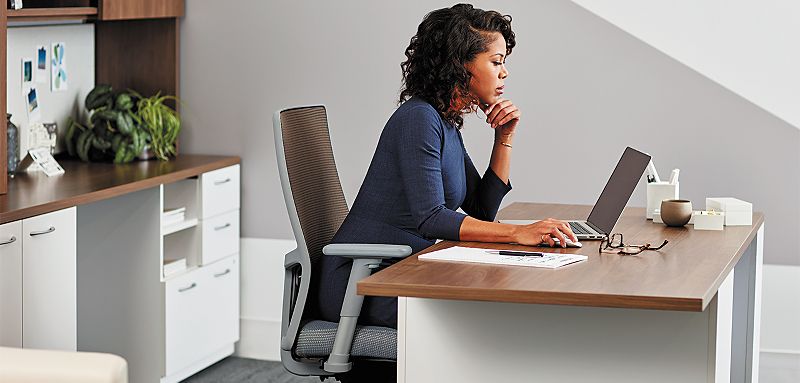 Improving
Well-being at Work
Encouraging employees to be more physically active and eat right is nothing new. Companies have been addressing wellness through various corporate initiatives for over a decade in an effort to combat rising healthcare costs. But now, forward-thinking companies are expanding those initiatives by adopting more holistic approaches to employee well-being. These programs not only help with their workers' physical health, but also their emotional and mental health, financial literacy, and much more. Why? Because employees that are both happy and healthy—a.k.a. "well"—employees are much more likely to be engaged in their work, and physical health is only one dimension of well-being.

Addressing the "whole" person at work seems like a smart thing to do when you're trying to show employees that you value them, but does it really make financial sense? According to a Towers Watson report published in 2015, a healthy and happy workforce can reduce costs by more than $1,600 per employee, with fewer leave days taken because of disability or unplanned sickness. And, according to the Harvard Business Review, the average ROI of successful mental health initiatives is $2.30 for every $1 invested. So, the answer is a resounding "Yes."

Holistic wellness programs incorporate a 360-degree view of employee health. As such, a successful workplace well-being program needs to be multi-faceted. Supporting physical, emotional, and social well-being requires a thoughtful approach that incorporates educational opportunities, company-sponsored programs, and strategic facility design. Here are some tried and true initiatives that leading organizations around the globe have implemented to help with employee well-being:
61%
of respondents believe their well-being program improves employee productivity and bottom-line business results
Deloitte Global Human Capital Trends survey, 2018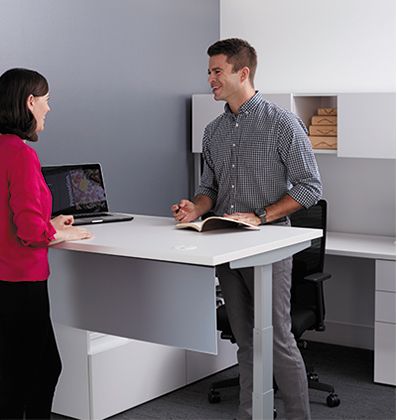 Let's Get Physical
Encouraging employee fitness doesn't necessarily mean building an on-site workout facility, although that's certainly an appreciated amenity for many employees. Some companies sponsor wearable device programs that provide employees with fitness trackers such as a Fitbit or Apple Smart Watch, along with offering rewards for reaching fitness goals and encouraging fun competition between co-workers. Furnishing spaces with sit-to-stand options addresses sedentary behaviors by promoting physical motion and postural change. Positive results can also be achieved by intentionally designing the layout of the workplace to encourage more movement and interaction. By creating warm, comfortable gathering places alongside a hospitality area like a coffee bar that's well-supplied with healthy snacks, you not only encourage employees to increase their activity by getting up from their desk for nourishing refreshment, you also provide them with the social opportunity to build mutually beneficial connections with others.

Mind Your Business
Offer up education and training on mindfulness techniques. Mindfulness is a mental state that is achieved by focusing one's awareness on the present moment and blocking out other distractions that can impede the task at hand. Mindfulness practices such as meditation, breathing, and yoga can help your employees relieve stress and achieve balance, as well as increase their productivity and focus. A 2016 study published in the International Journal of Workplace Health Management found that employees who received a weekly two-hour training course on mindfulness over an eight-week period reduced anxiety and displayed higher levels of concentration on work. Mindfulness can also help deter employees from multitasking, which has also been found to reduce productivity over time.

Well-being: What employees value vs. what employers offer*
*Source: Deloitte Global Human Capital Trends survey, 2018
Lighten Up
Wherever possible, provide employees with access to natural light and make sure that ambient and task lighting are adequately addressed. Exposure to natural light can reduce eye strain, headaches, and drowsiness and improve overall workplace performance. According to the World Green Building Council, exposure to natural light increases productivity by 18% and better lighting, in general, pushes up work rates by 23%.

It's Only Natural
It's been scientifically proven that exposure to nature helps reduce stress, invigorates us, and helps us to better focus. Providing ample window views and access to nature through outdoor circulation paths or courtyard meeting spaces is certainly one way to tackle biophilic workplace design, but not every business is fortunate enough to be located in that perfect, pastoral setting. The good news is that you can bring nature indoors. Incorporating plants throughout your workspace not only looks good but—as an added bonus—helps to clean the air your employees are breathing by absorbing carbon dioxide and releasing oxygen.

Just the Right Place
Having the right furniture to support how work gets done today goes beyond just providing ergonomic task chairs for your employees. Making sure that there are a variety of workplace settings available—from lounge areas to stand-up meeting areas—will encourage postural change and healthy movement. With workspaces becoming more open to foster connection and collaboration, it becomes increasingly more important to provide designated, private areas for focus and reflection—which are essential to an employee's ability to concentrate and rejuvenate. According to the International Interior Design Organization (IIDA), workers in the open plan are interrupted every 7 minutes on average, and it can take upwards of 15 minutes to get back to a place of deep concentration. In a 2014 IIDA workplace happiness survey, 80% of respondents said that "constant interruption" was what they would most like to change about their workplace. By properly addressing acoustics in the open plan and providing spaces for privacy, organizations can help mitigate the constant distractions and interruptions that interfere with workers' productivity and happiness.