Row
Column
Component
WYSIWYG
Component
WYSIWYG
Lori Roop
Home: Kennebunk, Maine
Education: B.F.A. in Textile Design, Rhode Island School of Design, 1992
Awards: Numerous Best of NeoCon and Nightingale Awards
CF Stinson
CF Stinson has been working hard keeping their customers satisfied for three generations. As purveyors of innovative textiles, CF Stinson is a company of designers, thinkers and makers dedicated to creating textile solutions. This Midwestern company has origins in textile distribution to architects, designers and furniture manufacturers. Since 1952, they have created innovative textiles for clients in the corporate, education, healthcare, and hospitality markets. CF Stinson consistently exceeds design, performance, service and sustainability standards, and has been awarded for their work through industry recognition. Their fabrics have evolved over the past six decades, thanks to research, great design and technology. Their goal has always remained the same: to create interesting and innovative textiles that work. Since the very beginning, CF Stinson has explored new ways to make products that exceed customer expectations, and they plan to continue this tradition into the future.
Column
Component
WYSIWYG
Q. What materials trends are you seeing in the workplace?
A. Material selections in the workplace are transitioning to a residential feel. Textiles are more like what you'd find at home, as opposed to the monochromatic look that used to dominate commercial spaces. Color is all about the juxtaposition of pairings, such as combining a trendy color with an unexpected accent. From a textural standpoint, CF Stinson is creating a wider variety of surfaces that people want to touch, while at the same time, incorporating fibers and constructions that yield high performance. As for patterns, we see a movement toward fun and modern geometric patterns that help to create energy in the work space. We are seeing more Crypton® fabrics used as well, because they offer residential-looking aesthetics while delivering the performance necessary for collaborative areas. With the advancement in aesthetics of coated fabrics, we are also seeing more vinyls and polyurethanes being used in the workplace, specifically in areas like training rooms, cafeterias, casual, and interior recreational spaces.
Component
WYSIWYG
Q. What colors and textures are companies using to inspire workers?
A. I see the desire to use a lot of neutrals with splashes of color. This approach doesn't become overly expressive or loud, but it becomes more aspirational when you add more nuanced colors into the mix. There is also a wider variety of textures being used in the same setting. For example, a comfy matelasse beside a dry concrete surface or a heathered chunky basket weave beside a metallic faux leather. It's all about mixing it up and creating variety and choice.
Component
WYSIWYG
Q. How do you draw inspiration from natural elements and urban landscapes?
A. The CF Stinson studio is in Maine, so seasonal changes have a big impact. We draw inspiration from the river that flows through our property, the patterns on leaves and a variety of other natural elements. As our work evolves to embrace more creativity and emotional connections, we increasingly
turn to our innate desire to turn to nature for inspiration and to form bonds.
Creativity helps us interpret nature and make it accessible for everyone, especially those in urban areas, we harness it to infuse a sense of nature throughout the workplace. It doesn't have to be a literal interpretation, it's about replicating those natural patterns and colors to calm and inspire a new generation of workers.
Column
Component
WYSIWYG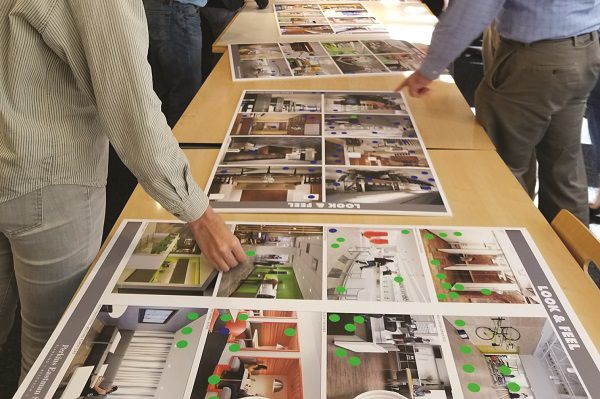 Q. What insights can you share from CF Stinson's partnerships with textile designers?
A. As textile providers, we create palettes that designers use to bring a space they envision to life. So our job is to create a palette expansive enough to give them all the options they need to fulfill their vision. However, we really enjoy working with designers who bring ideas to the table that we haven't considered. For example, our most recent partner collection was with Art of Board, a lifestyle design brand who removes discarded skateboards from the waste stream and repurposes them into architectural elements for commercial spaces. The result was a cutting-edge collection of performance fabrics for the workspace, that deliver a modern, urban feel.
Component
WYSIWYG
Q. Do you foresee any major changes on the horizon?
A. While there is no crystal ball, we continue to create as much variety as possible to give people the ability to satisfy changes in the marketplace. I am not aware of any paradigm-shifting event coming in the next few years, but the contract furniture market typically goes through evolutions periodically — such as the current "resimercial" trend. With our legacy of innovation, we are constantly challenging ourselves and searching for what's next.